International Students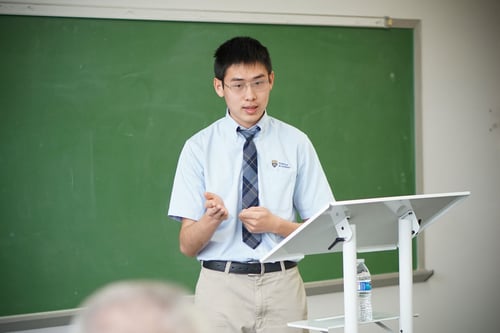 This school is authorized under Federal law to enroll nonimmigrant alien students.
International students stay with homestay families and quickly become involved in all areas of academic and extracurricular life at Veritas Academy. Our domestic students benefit from our international student program as they learn about different cultures and have the opportunity to share God's love with these students. Whenever possible, we attempt to place our international students in the homes of Veritas Academy families, and we encourage our international students to participate in a wide variety of extracurricular activities.
Our school's location in central Pennsylvania allows easy access to historical and contemporary points of interest in Washington D.C., Philadelphia, and New York City. Veritas Academy has partnered with several different student exchange agencies (including American Home Life International (AHLI) and International Student Life Services) to handle the admissions and enrollment process.
Tuition at Veritas Academy for international students for the 2023-2024 school year is $22,500 The tuition fee covers the cost of tuition, extracurricular activities, field trips, special events, and uniforms. International students pay additional fees to their student exchange agency.
To be accepted at Veritas Academy, international students must demonstrate English proficiency using the iTEP SLATE, the TOEFL, or the TOEFL Jr. exams. Also, prospective international students are required to complete an interview with our school administrators via Skype. First-year international students will be placed in the appropriate grade level based on their previous academic performance, English proficiency exam scores, and interview.
For more information, or to begin your international student application process, please contact our Admissions Director Jill Trimbath at jtrimbath@veritasacademy.com.